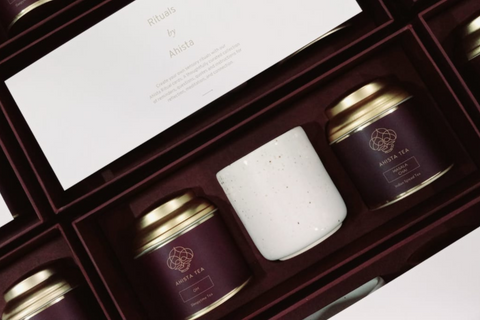 Ashmit Patel
Unveiling the Power of Gifting for Wedding and Corporate Events

Unveiling the Power of Gifting for Wedding and Corporate Events

Step into a realm where gifting becomes an art, where every present is a masterpiece woven with elegance and taste. Whether it's corporate partners or cherished wedding guests, Ahista Tea's offerings promise to leave an indelible mark.

In a world where the mundane often dominates, gifting becomes the beacon of meaningful connection. It's a language that transcends words, an expression of sentiments that linger in the heart. We understand this language better than anyone. It's not just about gifting tea; it's about gifting an experience, a moment of tranquility and delight.

With a collection that traverses the globe to source the finest ingredients, Ahista Tea presents a symphony of flavors that caress the senses. From the soothing embrace of Himalayan Chamomile to the bold allure of Earl Grey, each blend is a masterpiece waiting to be discovered. But it's not just the tea that captivates; it's the meticulously designed mini tea tins that house these treasures, a testament to Ahista Tea's commitment to refinement. They hold our luxurious blends which are works of art themselves, resonating with grace and sophistication. However, what truly sets us apart is the opportunity for customization. Each package is a canvas waiting to be painted with your vision.

 

Picture this: a client gifted with a tailored selection of Ahista's teas, each blend a testament to their distinct preferences. The packaging adorned with your company's logo and a personalized message, it becomes an embodiment of your brand's values and thoughtfulness. But we don't stop there; the idea is to invite you to curate gift sets, crafting a narrative that aligns with your intention. The customization elevates your gift to a level where it's not just received; it's cherished.

Weddings are celebrations of love, a canvas where memories are painted with the brushstrokes of joy. Ahista Tea adds a touch of magic to this canvas, offering a whimsical alternative to traditional favors. Imagine your guests discovering an elegantly adorned tea box, a keepsake that carries your names and the date of your union.

 

Our range of teas becomes a palette of flavors, customizable to match the essence of your celebration. Rich and enchanting for a fall wedding, light and refreshing for a spring rendezvous – the possibilities are as limitless as your imagination. As guests indulge in these delicate flavors, they're transported back to the day when your love story unfolded.

In a digital era, the value of personalization soars. We embrace this notion with open arms, infusing our gifting experience with a touch of authenticity. Whether it's expressing gratitude to corporate partners or extending warm thanks to wedding guests, we hope that our personalized gifting options cast a spell that lingers beyond the last sip.