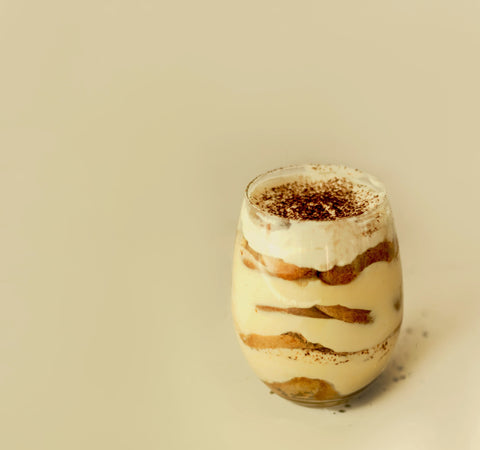 Ashmit Patel
Vegan Chai Tiramisu

This Vegan Chai Tiramisu recipe is a caffeine-free twist on the classic Italian dessert - instead of lady fingers being dipped in espresso, they're dipped in our Vintage Chai. Tiramisu is traditionally made with mascarpone, sponge cake ladyfingers, coffee and alcohol. Here at Ahista Tea, we like to spice things up and continue to find ways to explore the endless possibilities with using tea as an active ingredient:

Ingredients

Chai Tea Concentrate

- 500 mL of water (2 cups)
- 2 Tea Bags / 2 Tbsp of Vintage Chai
- Add extra ginger or cinnamon for a greater spice kick

Dairy Free Sweet Cream

- 1½-2 cups dairy-free cream cheese alternative
- 7 ounces firm silken tofu
- ½-1 cup agave nectar
- ¼ cup plain dairy-free creamer

Vegan Ladyfingers

- 2 cups whole wheat pastry flour
- ¼ cup sugar
- 1 tbsp Baking Powder
- ¼ tsp salt
- 1 cup plain Dairy-Free Creamer
- ¾ cup Agave Nectar
- 2 servings prepared EnerG Egg Replacer or Just Eggs (equivalent of 2 eggs)
- 2 tbsp Oil

Instructions

1) Preheat your oven to 350°F.
2) In a large bowl, whisk together the flour, sugar, baking powder, and salt. Combine the dry ingredients together.
3) In a medium bowl, whisk together the creamer, agave, Energ-G "eggs," or 'Just Egg' and oil.
4) Fold the wet ingredients into the dry ingredients.
5) Scrape the batter into a pastry bag. Pipe the batter into 3-inch long by 1-inch wide cookies, leaving about a 1 inch between each cookie.
6) Bake for 16-20 minutes.
7) Pour the chai tea into a shallow bowl.
8) Pour chai concentrate onto a small plate with a lip and set aside. Roll each ladyfinger slowly in chai concentrate, bounce each end in the concentrate, and then lay into the baking dish with rounded side up. Repeat with enough ladyfingers to line the bottom of the baking dish. Top the ladyfingers with roughly half of the cream mixture
9) Repeat with a second layer of ladyfingers and cream mixture
10) Chill the tiramisu for at least 30 minutes.