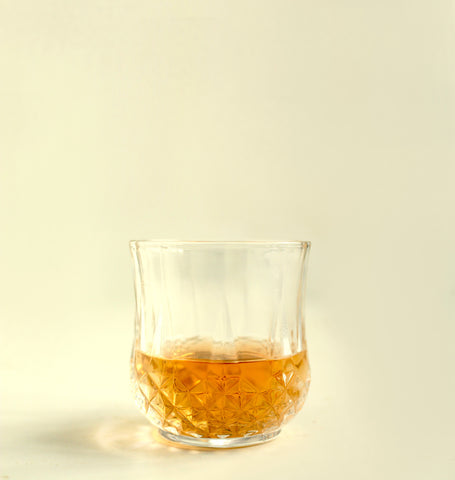 Ashmit Patel
Whiskey and Tea

It's that time of year again. Temperatures are falling and everybody's crazed for pumpkin spice. There's no better time to sit on the porch sipping hot tea or a strong drink. Better yet, why not both? Tea infusions are a great way to incorporate the comforting flavors of tea into your favorite cocktails. Whether black or green, oolong or herbal, teas add a depth of flavor to whatever you choose to infuse. 

Tea and whisky have enjoyed a centuries-long romance. In addition to their prominence, the two make a particularly good match because their flavors work in harmony. Their flavors evolve, with some notes softening and others becoming more pronounced. They also heighten each others' aromatics; while tea's heat and subtle delivery creates a smoother release of the whisky's flavor points. Whiskey showcases the quiet force and depth of the tea's complexity.

In this recipe, we use our smoked blacked tea aptly named Fumé (meaning 'smoke' in French) from the Northeast region of Manipur, India. Unlike heavily, smoked dried teas over pinewood like Lapsang Souchong; these leaves absorb the smoke notes from charcoal drying and heat from the Sun. This tea stands out from the average smoked tea as it achieves balance between its subtle smoke character, sweetness, and texture. And we prefer a rich, smokey style of whiskey to enhance the overall flavors by using an Islay malt from Scotland like Laphroaig.

Instructions

TEA:

1. Using a vegetable peeler, remove the zest from the oranges in wide strips, avoiding as much of the white pith as possible. Set half of the zest aside for steeping and refrigerate the remaining half in a zip-top bag or other airtight container for garnishing.

2. Bring the water to a boil, remove from the heat, and add 2.5-5g loose tea and the orange zest set aside for steeping. Let steep for 5 minutes. Pour through a fine-mesh strainer into a 3-quart heatproof container; discard the solids in the strainer. Refrigerate the tea until cold, at least 3 hours. Meanwhile make the mint syrup.

MINT SYRUP:

1. Place all of the ingredients in a small saucepan, stir to combine, and bring to a simmer over medium-high heat. Reduce the heat to medium low and simmer, stirring occasionally, until the sugar has completely dissolved and the syrup has slightly thickened, about 5 minutes.

2. Remove from the heat and let cool to room temperature, about 1 hour. Strain through a fine-mesh strainer set over a medium bowl; discard the solids. Cover and refrigerate until ready to use.

TO SERVE:

When ready to serve, stir the Scotch Whiskey (Laphroaig) and half of the mint syrup (about 1 cup) into the tea. Taste and add more syrup as needed. Fill 8 highball glasses or whiskey glass with ice and add several strips of the remaining orange zest to each glass. Pour the tea mixture over the ice, garnish with a sprig of mint, and serve.