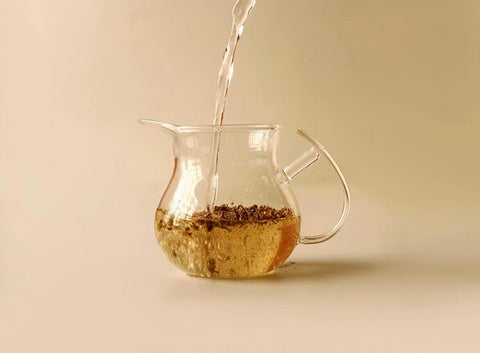 Ashmit Patel
Iced Tea vs. Cold Brew Tea? It's Not The Same.

Iced Tea vs. Cold Brew Tea? It's Not The Same.

In fact, many tea connoisseurs are living a lie when it comes to iced tea and cold brew - bypassing both the drinks as similar beverages, with different names. Iced tea and cold brew vary on multiple levels - from their preparatory, taste to even health benefit aspects.

Let's understand the difference first and then proceed with other components of modifications.

Iced Tea vs. Cold Brew: Which One Is The Best?

Preparation
The process of making both iced tea and cold brew defines their underlying variance.

Iced Tea
The method of making iced tea commences with the regular technique of making tea. First, you need to steep tea in hot water and leave it to brew. After you've brewed the tea, you either pour the tea in a glass of ice cubes or refrigerate it and then serve. It's less time consuming than making a cold brew. A major part of the steeping is already processed through the heating technique. All you need to do is either cool the brew at room temperature and then pour ice or refrigerate for a few minutes until it's cold enough to enjoy the taste of Iced Tea.

Cold Brew
In case of preparing cold brew, you simply steep tea leaves in water. The water can be at room temperature or cold. Leave the concoction resting for a good number of hours in the refrigerator. Strain and serve.

Another way to save time while making a cold brew is steeping the tea leaves in a large pitcher and leaving it to the refrigerator for hours in the beginning and then simply serving as and when you wish to quench your thirst. You can also play with its flavor profile. For example, add a stick of cinnamon in your steeping brew or a slice of lime, apple, or even a few lavenders or other fresh herbs.

The Japanese technique of making cold brew - Kouridashi Cold Brew
You can also follow the Kouridashi brewing method. It is a Japanese process involving adding tea leaves in a jar or glass of ice cubes directly and serving it after the ice cubes have melted.

To conclude, iced tea is made by steeping tea in hot water and then cooling it for final consumption, whereas, cold brew is made by leaving the leaves to brew in regular temperature water for hours in the refrigerator.

Taste Test

The technique of preparing iced tea and cold brew gives a contrast to the taste. Iced tea will be stronger in taste, close to experiencing bitter tones in the palate. It is mostly due to the fact that the tea is steeped in hot or boiling water. As a result, a high percentage of tannin is released.

When it comes to the flavor profile of cold brew, it's delicate, smoother, and more natural tasting than iced tea. The reason being, the preparatory process prevents the release of tannin and ensures natural overtones in its flavor depiction.

Health Benefits

Finally, let's talk about health benefits. Both iced tea and cold brew delivers a sense of calmness and satisfaction. However, in lines of health benefits, Cold Brew is better and more beneficial. Simply because of the fact that there is an absence of tannin.

According to Healthline - in spite of health benefits in tannins, there are a few negative aspects to the chemical compound. Too much tannin can cause our system to halt iron absorption, as well as, cause nausea.

All in all, Cold Brew is low in caffeine level and high in antioxidants, in comparison to Iced Tea. So, you decide, which one will it be.

Cold Brew Tea Recipe

Ingredients:

• A jar or a pitcher
• Tea of your choice (for best flavour - use loose leaf tea)
• Room temperature or cold water
• Optional add-ons: Fresh herbs, fruits, spices

Instructions: 

1) Place 2 teaspoons of loose-leaf tea into the pitcher or jar. We recommend loose in the pitcher instead of a filter which allows the tea leaves to release full flavour. You can choose to use any of our teas to cold brew. 

2) Pour 2 cups of room temperature or cold water into the pitcher or jar. To make more cold brew tea, simply double the amount of tea and water.

3) Cover the pitcher and place in the refrigerator overnight for 8-12 hours. If you think the tea is too strong and was steeped for too long, add more more cold water. You may also add fresh herbs, fruits, or spices. When the optimal taste is reached, pour it through a strainer to remove the loose leaf tea.