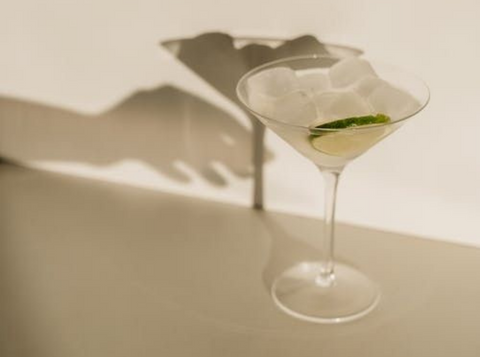 Ashmit Patel
Summer Tea Martini

This summer, as temperatures soar across the world, cocktail aficionados are busy mixing ingredients to create the perfect Martini! On the surface, it has all the characteristics of a classic martini; gin, vermouth, and garnished with whatever floats your boat.

Beyond that point, a tea Martini has the potential to be so much more. With each blend of tea that you decided to integrate into your drink, the Martini can be reimagined as an exciting new cocktail.

The possibilities are endless, and since we happen to be both, cocktail and tea aficionados, we decided to create an easy, breezy, summer-crazy Ahista version of a Martini and since we were a little hungover after all the brewing and tasting, we decided to be very original in calling our tea-infused cocktail 'The Ahista Summer Martini.'

To make the same Martini, you will first need to infuse some gin.

To make tea infused gin:

1) Add 8 tablespoons of our Cream of Earl Grey that kicks a punch with its citrus undertones, to a litre of dry gin
2) Add 2 tablespoons of our Mojito tea blend. With flavours of green tea, lime, peppermint and lemongrass, it sets the tone right for the ideal summer Martini
3) Allow the flavours to infuse for a minimum of 2 hours. Remember, the longer the better!

Once your tea-infused gin is prepared:

1) Take 45 ml of the tea infused gin in a shaker
2) Add 20 ml of freshly squeezed lemon juice
3) Add 30 ml of simple syrup
4) Add 1 egg white
5) Shake, shake, shake!
6) Once you're done shaking, add ice and shake again, until the drink is cold.
7) Use a martini glass and lace the rim with sugar.
8) Pour, serve, drink.

This tea-infused Martini is perfect to be sipped outdoors, on a bright, sunny day. Drink responsibly!