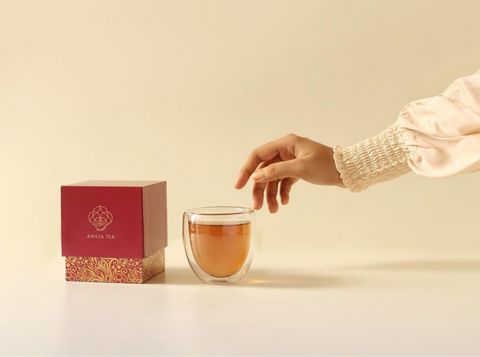 Ashmit Patel
The Ahista Standard: Luxurious, Handcrafted Tea

The Ahista Standard: Luxurious, Handcrafted Tea

Meticulous attention to detail is the mark of luxury. We regard the 'slow pace' of our namesake as a mantra and infuse each aspect of your tea experience with intention, compassion, and quality. Ahista Tea's refined methods of sourcing and blending are unique to the industry. We are redefining and elevating the tea standard one cup at a time.

Our teas are handcrafted by artisans who ethically and sustainably source ingredients of the highest standards. Once sourced, our artisans combine the organic tea leaves, herbs, spices, and flowers into rich and nuanced blends. We invite you to taste the attention to detail in your cup.

Various processes of flavouring - often delicate and of considerable duration - are undertaken to craft each batch. Today we highlight the magic behind three of our bestselling teas.

Mogra - Jasmine Green Tea

Jasmine blossoms (known as 'Mogra' throughout India) are an inseparable feature of India's ancient devotion and contemporary culture. Our Mogra blend is an artful infusion of sweet fragrance and delicate green tea that honors their beloved position in Indian culture.

Our Mogra blend contains high levels of antioxidants that maintain healthy skin and protects heart health due to its green tea base. We have also managed to capture the enchantment of the Mogra flower through nine stages of natural scenting. The delightful aroma elevates mood and increases relaxation.

Our artisans employ an age-old scenting process to craft the unforgettable aroma of each cup of Mogra. Jasmine flowers are layered over dried green tea leaves. When the jasmine flowers blossom at night they release a delightful aromatic oil that permeates the layers of flowers and tea. Once the fragrance is fully absorbed into the dried green leaves beneath, the process is repeated to enhance the sweet perfume all the more. This labor-intensive process goes through nine stages of scenting and produces small batches of tea.

Through repeated rounds of scenting - despite multiplied cost and longer processing - we are committed to slow, intentional, ethical, and sustainable practices. We regard each blossom and leaf with the respect it is due: as beloved wonders of nature and beloved symbols of Indian culture.

The green tea base featured in our Mogra blend is sourced from a small tea garden in Darjeeling. Tea plants in Darjeeling are grown at high elevations and must adapt to their environment by growing more slowly. The slow growth increases chlorophyll content and results in teas with a more delicate, floral flavor; unlike their tea relatives of lower elevations. In addition to the elevation, the cold climate of Darjeeling's mountainous region serves to slow tea plant growth even further encouraging the development of natural sugars and complex flavors.

The slow growth of our Darjeeling green tea contributes to the richness and depth of flavor. The slow scenting process elevates our Mogra to new heights of delicious delicacy. Our namesake is honored with the regal attention to quality we provide each step of the tea process.

Arabian Nights - Moroccan Mint Green Tea

Arabian Nights is a minty, cooling tea blend with a light aroma that is a refreshing take on the household staple of Morocco. It acts as a powerful antioxidant, promotes skin health and prevents bad breath. Traditionally composed of Gunpowder Green Tea and spearmint, we are committed to sourcing ingredients that uphold the excellence of age-old Moroccan tradition and hospitality.

It is delicately crafted by artisans from source to sip. Gunpowder Green Tea serves as the base of Arabian Nights. Many teas are named according to the plants that produce them. Others are named after their region of origin. Gunpowder Green Tea is unique in that its name is derived from its look and taste. The fascinating shape of Gunpowder Green resembles dark grains of gunpowder which express a strong, astringent taste when brewed. Leaves are tightly rolled pellets that unfurl - quite magically - into long leaves when steeped.

Our Gunpowder Green Tea requires a careful, almost ceremonious production method. In order to craft the highest quality gunpowder tea, our artisans wither, steam, roll, and dry individual tea leaves by hand. Each leaf of every batch has received undivided attention.

Due to our delicate process, the tiny pin-like pellets in your cup unfurl into long, lucious leaves when steeped for a remarkable experience. The Gunpowder Green provides a tart base to balance the minty, refreshing spearmint upon your palate.

In keeping with ingredients of the highest quality, we source spearmint from a farm in Sivakasi, Tamil Nadu. The rich, moist soil of this region produces a clean, light spearmint flavor with an intense aroma. The natural benefit of sourcing spearmint from this soil is further enhanced by our harvesting methods. Spearmint leaves are harvested in the mornings after the dew has just left the plant. During this time, the plant's essential oils are at their highest concentrations. Our dedication to working in partnership and patient cooperation with nature enable the preservation of our uniquely fragrant and refreshing spearmint qualities of Arabian Nights.

The finer ingredients of Arabian Nights exceed other mint teas offered in the market due to Ahista Tea's resolution to slow down and honor the land that produces and the hands that harvest.

Vintage Chai - 15 Spiced Herbal Chai

Vintage Chai is an alchemic concoction that boasts the highest number of ingredients for a chai available on the market. All fifteen spices are organic certified and pesticide free.

You will experience the taste and aroma of the following fifteen spices when you sip our highly-rated herbal chai: Ginger, Ashwagandha Root, Cinnamon, Burdock Root, Gogi Berry, Fennel Seeds, Cardamom Pods, Cardamom Seeds, Cloves, Rama Tulsi, Cocoa Nibs, Peppercorns, Star Anise, Vanilla Bean, and Saffron Strands.

With careful consideration of each ingredient, we have crafted a balanced and delightful beverage with natural healing power. This non-caffeinated, comforting chai aids in everyday detox and weight loss. The blend of our fifteen spices was formulated with Ayurvedic principles in mind, generating internal warmth that rids the body of toxins, boosts mental focus, and increases metabolism.

Vintage Chai has a long history of warming the soul with its distinct temperature, flavour and intensity. What is more, our non-caffeinated fifteen-spice blend may be enjoyed at any time of day for those with caffeine sensitivity.

The Ahista Tea Standard

Ahista means 'at a slow pace.' We reject the rapid industrialized machine of modern tea production and embrace the art of slowing down. Ahista believes in taking the appropriate time to develop blends worthy of their journey to your cup.

The art of slowing down and being present throughout each phase is apparent in our sourcing and production methods. Utmost respect is given to the moment, the details, and the mission of elevating the tea industry one cup at a time.

From the first harvest of leaves to your first sip, our tea has been crafted with care by those who care every step of the way. Our tea-artisans participate in detailed and labor-intensive processes to handcraft a tea you will cherish, not only for its taste and aroma but also for its ethical and sustainable origins. This unique approach to infusing tradition and innovation into our premium, single batch teas and contemporary teaware is our definition of luxury. 

Our aim is to change the perception of Indian tea culture towards a contemporary interpretation. We elevate experiences at Michelin-starred restaurants, luxury boutique hotels and cafés around the world by exploring possibilities between food, art and culture.

When you invest in Ahista blends, you invest in ethical, environmentally conscious tea. You participate in the mission of slowing down and relishing in attention to the details. Take a sip and taste the difference. Join us on the journey.