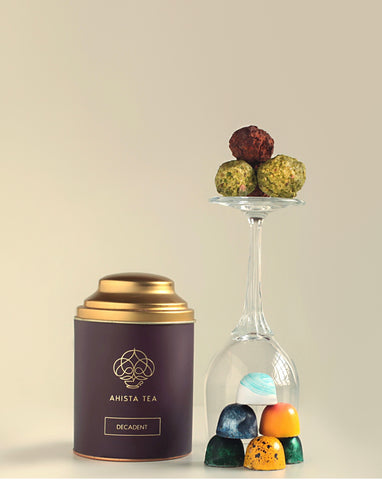 Ashmit Patel
Pairing Tea with Chocolate

Pairing Tea with Chocolate

 

Savouring Tea with Chocolate

Tea is a versatile beverage that pairs well with most foods. To combine tea with your favourite chocolate or a delectable dessert can be a highly rewarding experience. However, have you ever wondered how that works?

Tea connoisseurs and chocolatiers believe that there is an underlying science behind knowing which tea flavours compliment a particular type of chocolate. With this in mind, we worked with chocolate experts from Cacao India to help guide you through a tea and chocolate tasting. Our intention is to elevate your tea drinking experience with chocolate pairings that create distinct harmonies of scent and flavour.

Tasting the Right Way 

Take a sip of tea and let it warm your palate. With each bite, the warmth will help melt the chocolate and unfurl each layer of flavour. Once the chocolate starts to melt and coat your tongue, pay attention to how the combination feels and tastes. Be cautious and choose fine chocolates and teas so they can offer authentic flavours that go well together.

For dark chocolates which have higher cocoa content, take a bite of the chocolate first followed by a sip of your tea. This helps enhance the inherent characteristics of the dark chocolate.

Pro tip:

Preferably drink teas without milk and sugar to attain a more organic experience. Keep palate cleansers such as white bread or weakly-brewed rose hip tea to use in between different pairings.

Understanding Fine Chocolate

With a variety of complex flavors found in each bite, fine chocolate offers not only a wonderful taste experience, but the opportunity to develop true connoisseurship. An acquired taste, dark chocolates have pure cocoa solids (35%-100%) present in its constitution.

There are four gradations of cacao:

Bittersweet chocolate has the most intense chocolate flavor. Look for bitter, roasted, fruit, earthy, woodsy and/or nutty notes.

Semi-sweet chocolate is not too sweet and the aftertaste is equally balanced. It can have nutty, spicy, floral and/or earthy notes with hints of fruit and caramel.

Milk chocolate contains about 10% to 40% cacao along with milk solids and sugar and sometimes vanilla and other additives. They have a soft texture and melts easily in the mouth. It is sweeter tasting and is preferred over its unsweetened or bitter tasting dark chocolate.

White chocolates have a silken buttery texture. While white chocolate lacks chocolate liquor, it includes the milk and vanilla used in milk chocolate. 

Experimenting is Key

Like any other food and beverage pairings, we look for combinations that compliment the other or further enhance the taste. Keep in mind that flavours that are overpowering on the palate may not be the best pairing. Think of it as a learning process. So when experimenting with different tea and chocolate pairings look for three key features: complement, contrast and enhance. 

Complement

Blue City with Dark Chocolate Bonbon (70%)

Chocolates with more than 70% pure cacao blend offers just the right amount of sweetness to balance the Blue City's intensity. The black tea base is aged with bergamot orange which compliments the chocolate ganache creating a bittersweet symphony in the mouth. Using two classics, this pairing brings together the gentle citrus background of the bergamot, creamy vanilla and smooth dark chocolate, adding depth to the tastes.

Fumé with Vanilla Bonbon

Delicately smoked over charcoal, Fumé is a black tea with a pleasant smokey flavour that has a balance between its subtle smoke character, sweetness, and texture. Vanilla Bonbon is thick, rich and pleasantly dark chocolate. When tasted together, they complement the overall richness from the chocolate with the smokey notes of tea, reminiscent of tasting smoked vanilla bean ice cream.

Contrast

Palace Breakfast or Decadent with Matcha Truffle 

Palace Breakfast and Decadent are two single origin black teas that have very pronounced flavours. Decadent is a complex, black tea that produces notes of dark chocolate, malt with a hint of cedarwood when brewed. Palace Breakfast is a signature blend of Assam tea with a twist of floral notes from Darjeeling tea. When the rich and creamy Matcha truffles are combined with either tea, it beautifully contrasts the flavourful robustness of both brews.

Mumbai Maté with Peppermint Chocolate Bonbon

This is a match made-in-heaven with the wintery, crisp taste of fresh peppermint and the richness of white chocolate. Not too sweet, a perfectly portioned way to end a meal or have a little treat with tea. The spices, specifically, cloves and cinnamon blended in the Mumbai Maté add a unique dimension in the aftertaste of the bonbon. 

Enhance

Vintage Chai with Fig Orange Bonbon

The glow of citrus, subtle sweetness of the fig and milk chocolate ganache accentuates the gentle heat from the 15 spiced herbal chai. Prominent, rich notes of saffron, cardamom, tulsi provide enough strength to overcome any nutty taste from the dried fig seeds.

Sapodilla with Seasalt Caramel Bonbon

The sea salt combines well with the tea's fresh, highly fragrant caramel overtones. When tasted together, caramel brings out the salt crystals in its complete potential. Just like salt allows us to cut through the sweetness and bring out flavours we wouldn't otherwise notice because of the sugar. The full-bodied tea couples nicely with the smooth chocolate texture and hints of salt. The caramel adds a textural element, and the sea salt is just enough to balance out the sweetness. 

Palace Breakfast with Coffee Bean Bonbon

The robust, yet delicate mix of Assam and Darjeeling tea blend intensify the taste of the coffee bean bonbon; highlighting flavors that are fairly similar. Thereby enhancing the layered taste sensation. An unexpected match of two highly aromatic and rich tastes.

Pashmina with Milk Chocolate Bonbon 

The buttery, silky smooth milk chocolate ganache cuts through the Pashmina Oolong citrus tart note and further enhances its creaminess and underlying almond flavour. The tea has a rich, velvety smooth intensity which marries well with the creaminess of the milk chocolate bonbon. 

Jade with Almond Praline Bonbon 

The tea's floral and earthy notes draw out the roasted sugars and the nuttiness from the almond. This mingles quite nicely with the medium sweetness of the milk chocolate ganache.

Final Notes

Start pairing teas with chocolates that have low cocoa content and gradually introduce your palate to stronger, more robust tasting chocolate (dark or semi-sweet variations). Keep in mind that tasting is a sensory affair which entails creating an environment that is conducive to new experiences. It's important we choose a time and place that creates a sense of relaxation. Perhaps your garden on a Sunday afternoon will be a perfect place to begin your tasting journey.