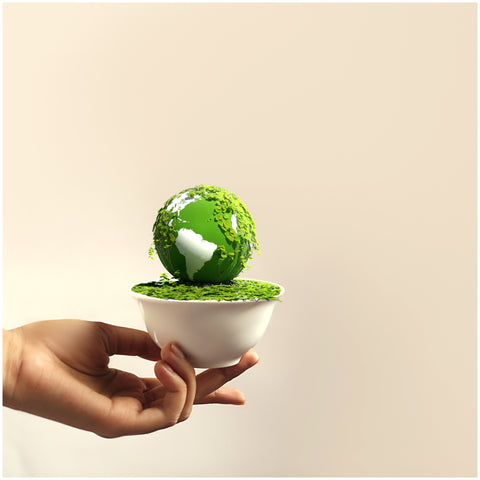 Ashmit Patel
The Importance of Sustainable Tea Production

The Importance of Sustainable Tea Production

In many countries and cultures, tea is a beloved time-honoured tradition and engrained in everyday life. In Great Britain, for example, approximately 100 million cups of tea are consumed daily. In Japan, some 80,000 tonnes of green tea are consumed every year; and in India an average of 837,000 tonnes per year of the classic favourite Masala Chai is consumed. Despite these astronomical numbers, many people know quite little about the process of how their tea is made. Whilst you would hope that this would be done in a sustainable and fair trade manner, this is often not the case, and many do not realize that not every tea company is sustainable or organic.

There are tea estates where pesticides are sprayed over the crops and workers that do not receive a fair wage or ethical treatment. In fact, an investigation last year by the British charity Traidcraft Exchange found that workers on an Indian tea estate in the area of Assam were paid only 137 rupees ($2) a day, far below the minimum wage of 250 rupees. This is equivalent to the global poverty line cut-off, after which people can't afford basic necessities such as food, water or shelter. When the baseline is profit, and no one cares for the product itself or the people who cultivate it, tea farms can sadly be the opposite of sustainable. They can have a negative effect on the surrounding nature and ecosystems and perpetuate socio-economic hardships in low-income countries, when the focus should be on the exact opposite. The problem with many large brands is that they often don't have direct contact with the communities of workers on the farms that grow the products that they buy, and so they cannot possibly have any idea of the poor living situations that the workers are facing.


The Use of Chemicals and Pesticides in Tea Farming


Some tea companies commission farms and then turn a blind eye to the use of potentially harmful chemicals. They use agrochemicals such as herbicides and pesticides, as well as non-organic low quality fertilizers to increase crop yields and their profit margins. In the total Indian tea production, major portion of the produce is exported to countries like Germany, UK, Japan, and USA, both as bulk exports as well as value added products. There is a steady increase in the production over the years since its day of first cultivation, which is due to extensive cultivation, improved technology, nutrition and fertility management, introduction of high yielding clones and longer pruning cycle.

These factors, on the other hand, have encouraged biotic stresses like insect pests and diseases to limit the productivity of tea. In the recent years, it has become a major concern to the tea industry as the importing countries are imposing stringent restrictions for acceptability of the made tea due to pesticide residues. Thus, before spraying any chemicals, the tea planters must consider the impact of pesticides on non target organisms, human health, wild life habitat and environment and adopt strategies to reduce the pesticide load to produce residue free tea, increase the exports and meet out the consumers' demand. This is why we intentionally choose to work with small family farms and artisan teamakers producing ethical, sustainable and organic micro batches of tea. Our goal is to improve their efficiency in production and quality control as well as to generate bioefficacy and biosafety data.


Supporting Local Communities


Since the Fairtrade Certification Movement began in 2002 (clear Fairtrade labelling on food products) a spotlight was shone on many industries and agricultural trades. From coffee and sugar plantations to tea and cacao farms, people in the world were suddenly made aware of how one-sided these industries could be; how exploited the workers were, how poor the communities that depended on the trade, and how devastated the surrounding environment. In our opinion, supporting the local communities is an integral part of the sustainable/organic ethos. Our approach to operating as a sustainable company involves understanding the ecological conditions of the tea farms, the well-being of our farmers and their communities, our business ethics, and even our employees' professional growth.

We believe in making authentic local connections and achieve a real understanding of the socioeconomic challenges facing our suppliers and their communities. We view our suppliers as long-term partners; their financial livelihood, community development, and environmental preservation are all crucial factors to our mutual success in the tea trade. Tea prices are a major concern and sustainability can only be achieved if everyone in the chain can make an acceptable return. By expanding the meaningful income of all stakeholders at the various levels of our supply chain – whether it be farmers and artisans, artists, manufacturers and so on - we can keep the added-value in India. 

The production and trade of tea has the potential to be a powerful engine for economic growth, poverty alleviation and food security in India. This is why it is important to support businesses that are transparent about their practices, who work ethically and support local communities. By supporting artisanal items and products produced in small batches, you can ensure that the producer is more focused on quality than quantity.